OEM OPTIC

PROVIDING WORLDWIDE CONNECTIVITY SINCE 2009
OEM OPTIC
PROVIDING WORLDWIDE CONNECTIVITY SINCE 2009
Our mission is to provide customers the lowest pricing, best service and highest quality optical transceivers in the global market.
The fiber-optic networking landscape today is littered with "compatible" transceiver companies. OEM Optic was one of the first companies to design and distribute OEM Compatible transceivers here in the USA. We now design and distribute compatible transceiver solutions for every switch brand available. We offer free same day shipping on over 2800 different brand compatible part numbers.
Trying to navigate the interoperability of all these brands can be an overwhelming experience. Luckily, OEM Optic is here 24/7 to help guide you through the maze of transceiver footprints, hardware specifications and compatibility options.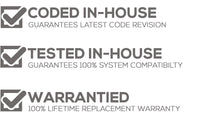 OEM OPTIC GUARANTEE
At OEM Optic, we code and test all our transceivers to be 100% compatible in their intended target application.